Who is Yayoi Kusama?
Yayoi Kusama is a renowned Japanese contemporary artist famously known for her signature polka dots art hence the name – The Queen of Polka Dots.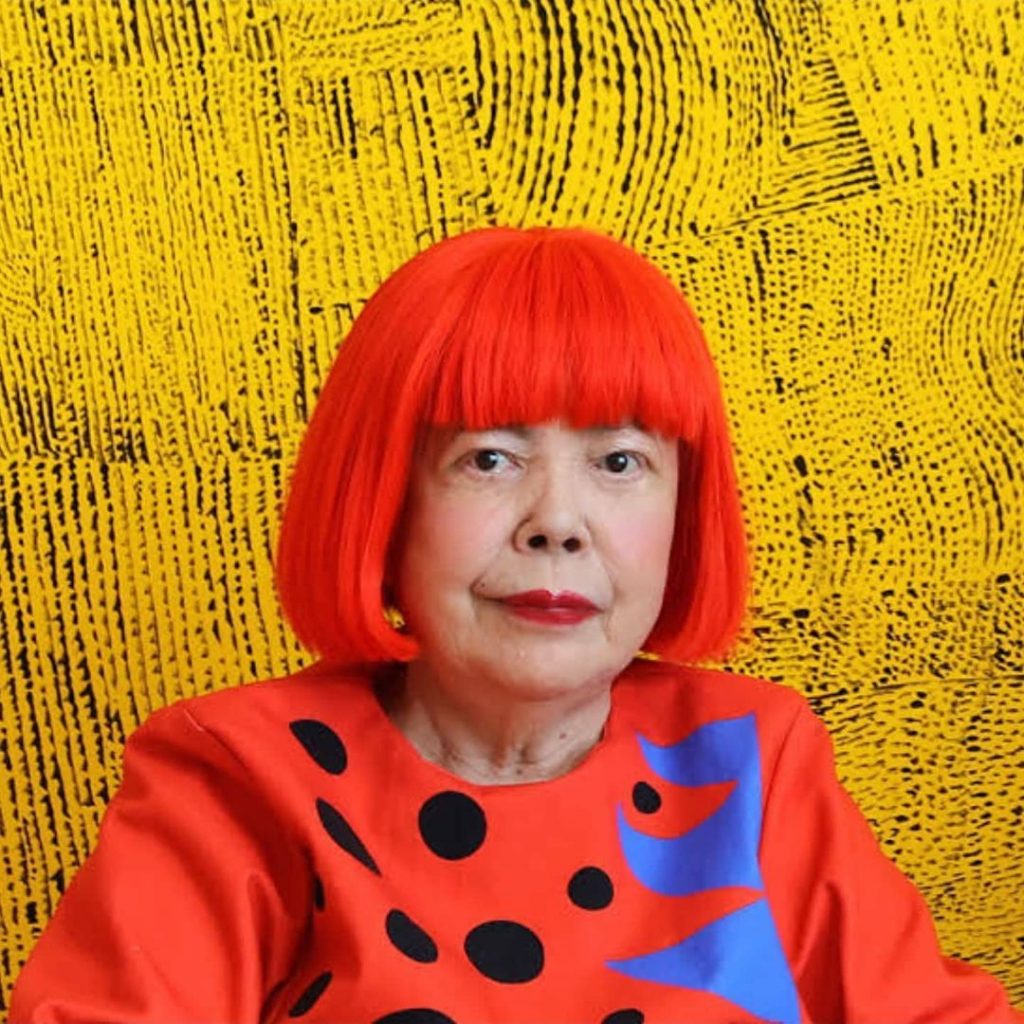 Yayoi Kusama – How art saved her from a painful past and a crippling future
With her orange wig and orange polka dots dress, Yayoi Kusama resembles a fragile Japanese doll.
In opposition to the self-confident image that artists usually convey when interviewed or photographed, Yayoi doesn't smile and is clearly uncomfortable playing nervously with a piece of fabric in her hand while talking to the camera. In this way, she is more like a child than a 90-year-old.
Yayoi started painting when she was 10, in her native Japan.
She had a conflictual and traumatising relationship with her parents.
Her father was a womanizer. Her mother would send Yayoi to spy on her father's encounters with other women. When Yayoi would tell her what she had seen, her mother would take it out on the child in a raging fit. The artist often recounted that her mother was physically abusive to her.
Lacking his father's support and her mother's love, Yayoi found refuge in her art.
Unfortunately, her mother didn't approve of her artistic efforts. She tried to stop her from painting by destroying Yayoi's drawings. Her mother would often tell Yayoi that she was expected to get married and become a housewife. A future which Yayoi whole-heartedly rejected.
It was around this time that she began to have vivid hallucinations. While drawing flowers, Yayoi would see them raise their heads and talk to her. A pumpkin she picked up once when she was with her father also began speaking to her. Polka dots would emerge from the canvas and engulf the floor, the walls, the sky, the universe.
Were Yayoi's hallucinations a result of her childhood traumas? Only a psychiatrist can answer this question.
What is beyond any question is that art saved Yayoi from a painful past and a crippling future.
At 30, Yayoi left Japan and came to America to paint and become an accomplished artist. There, her career took off.
Working sometimes 50-60 hours without rest, she often sacrificed her physical and mental wellbeing to her art. She had several exhibitions and became moderately successful.
When she became ill in her late forties, she returned to Japan to seek help. She's been living and painting in Japan ever since.
"I fight pain, anxiety, and fear every day, and the only method I have found that relieves my illness is to keep creating art. I followed the thread of art and somehow discovered a path that would allow me to live."

Yayoi Kusama
Yayoi Kusama's most famous artworks: Infinity Net, Obliteration Room, Infinity Mirror Rooms and Pumpkins
Infinity Nets
Yayoi Kusama's Infinity Nets are the artist's largest and most acclaimed body of work.
She began creating her iconic paintings in 1959.
The Infinity Net paintings are intriguing and delicate, a meticulously painted mesh over a black or white background.
Critics say these paintings "pull the viewer into the depths of the artist's psychedelic perspective of the world."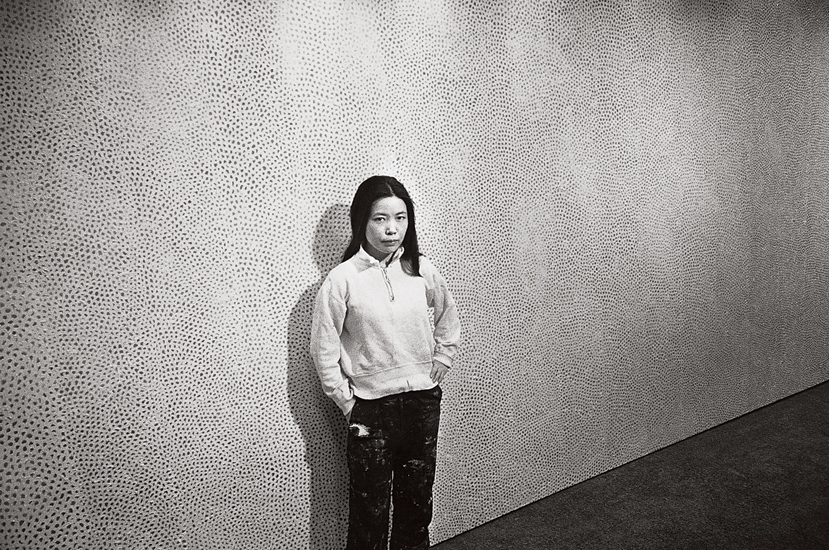 Obliteration Room
The Obliteration Room is an installation room first displayed in 2002.
The room begins as white space which visitors are invited to cover with colourful stickers.
Infinity Mirror Rooms
Yayoi produced her first Infinity Mirror Room in 1965.
Also an installation, the Infinity Mirror Room offers visitors the chance to step into an illusion of infinite space.
Over the course of her career, Yayoi has created more than twenty distinct Infinity Mirror Rooms.
Pumpkins
Aside from polka dots, the pumpkin is another beloved motif widely used by Yayoi in her art especially as a sculpture.
View this post on Instagram
Yayoi Kusama – 6 things you need to know about the Queen of polka dots
1.Yayoi Kusama is the highest-selling living female artist in the world. Her latest auction record sale was in 2019 when one of her 1959 paintings sold at Sotheby's for almost $8 million.
2. Kusama is one of the most Instagrammable artists of our time with 80 million posts featuring her artworks.
3. She launched a fashion range with Louis Vuitton, perhaps the biggest art and fashion collaboration ever. Among the items she designed was the Pumpkin Minaudiere, the most expensive Louis Vuitton bag ever to be sold in a store priced at $133,430.
4. She's been living in a psychiatric hospital, voluntarily, in Tokyo for the past 44 years. Her studio is just across the street from the hospital. She works six days a week from morning until night.
5. She is an important figure both in minimalism and in pop art. Her work contributed to the launch of the abstract art movement in the sixties alongside other artists like Andy Warhol or George Segal. Unlike her contemporary male abstract artists, Yayoi didn't receive the recognition she deserved. She mentioned on many occasions that Andy Warhol and other artists have drawn inspiration from her work and went on to become successful while she was ignored and pushed to the side.
6. She makes her own clothes.
Yayoi likes to say My life is a dot lost among other dots. In a world of selfies and self-gratification, Yayoi's art invites viewers to the opposite aspect of the self: self-obliteration.
Why should we focus on ourselves, small, frail silhouettes at the mercy of time, when we can expand our consciousness and become part of the universe?
Join the Conversation
We'd love to hear what you have to say.
Get in touch with us on our LinkedIn Page, Facebook Page, Twitter or TikTok.