Before learning about the fascinating history of BMW, we have a surprise for you: the unique opportunity to win one defensive driving training with BMW Driving Academy certified trainers!
Just click on the image below, enter your info and you are one step closer to getting behind the wheel of a BMW.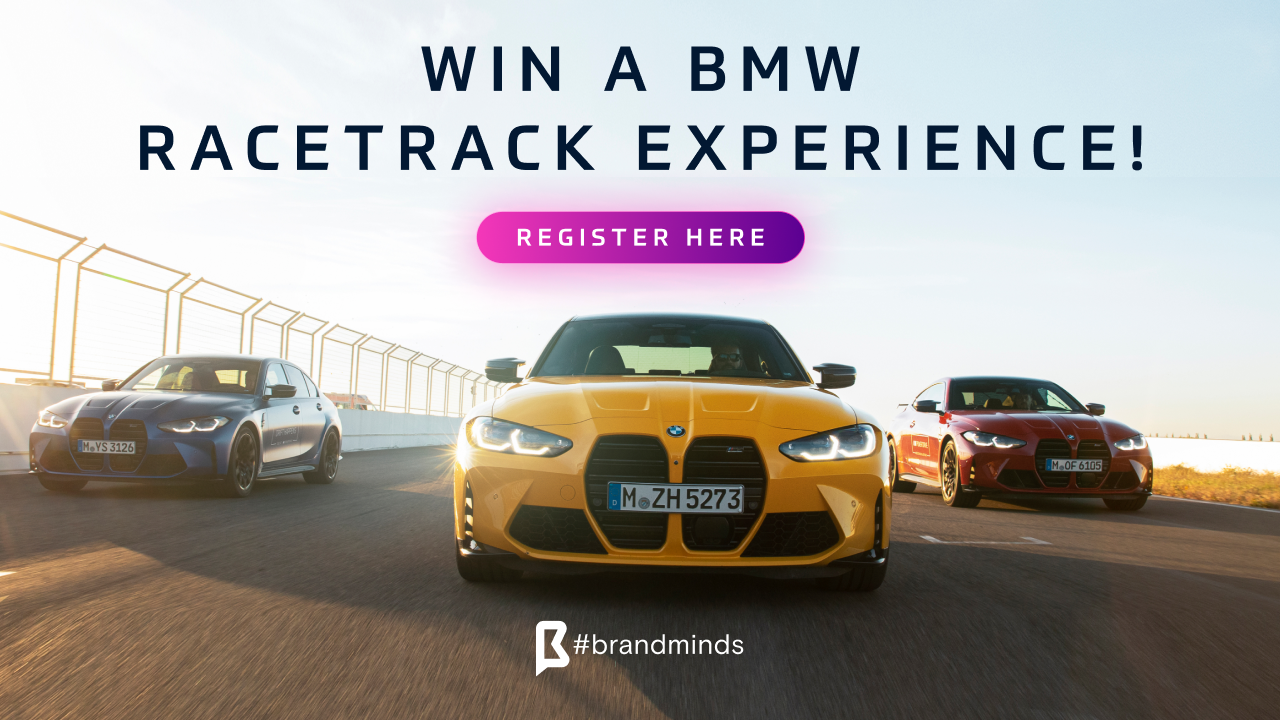 The Story behind the Brand: BMW
Imagine technology infused with a human touch. A machine whose intelligence is emotional rather than artificial. A vehicle with a voice, facial expressions, and true personality. A car that's more than a means of transportation, but an ultimate companion.
Welcome to the future!
Arnold Schwarzenegger introduces
Dee – The first BMW with a digital soul
BMW is one of the world's oldest brands (107 this year), and one of the most innovative car manufacturers in the world.
Cutting-edge automotive design, performance and technology becomes reality with every BMW model. Innovation is the foundation on which BMW was built and it's the power driving the brand forward. Technological breakthroughs provide drivers with a one-of-a-kind immersive in-car experience which BMW is known for.
Before we talk about BMW's present and the brand's vision of the future, let's revisit the past and discover how it all started.
BMW – the early days
One of the top 10 most valuable car brands in the world, BMW didn't start as a car manufacturer.
The company was established in 1916, in Germany and manufactured aircraft engines through 1945. This explains why its emblem illustrates a rotating propeller.
After 1945, BMW switched from building engines for aircraft to building motorcycles and cars around its powerful engines.
The BMW engine established the carmaker as an engineering force to be reckoned with and began producing car models that would become an essential part of the lives of many generations of fans around the world.
Let's remember some of the most iconic BMW cars!
All-time iconic BMW cars: BMW 507, BMW 1500, BMW 2002, BMW M5
One of the first post-war cars launched by BMW, the beautiful and elegant BMW 507 could reach 0 to 60 in 9 seconds and was loved by celebrities such as Elvis Presley.
In 1961, BMW launched the 1500 model. Compact, sporty and exciting, this car secured BMW's financial success as a modern and innovative carmaker.
Another BMW hit, the 2002 Turbo made history in the 1970s. Doing 0 to 60 in 7 seconds, the BMW 2002 is one of the most sought-after vintage cars in the world.
This car is included in the BMW Art Cars project, a collection of 17 cars serving as canvases for renowned artists from Andy Warhol to Jeff Koons.
Hollywood action movies like James Bond, The Bourne Supremacy and Mission Impossible, featured BMWs such as the M5 model.
10 facts and stories you need to know about BMW
1.In December 1958 in Frankfurt, Germany, Elvis bought a used white BMW 507 after starting his military service. His female fans were leaving lipstick marks on his chalk-white paint every day, so he got it painted red.
2. In 1964, 9 people from East Germany found freedom in West Berlin with the help of a modified BMW Isetta.
3. Did you know the company has been researching and testing electric cars since the early 70s?
4. Andy Warhol painted an M1 in 1979 as part of the BMW Art Car Series. This car is the most photographed BMW Art Car in the world.
5. BMW was the first car manufacturer to establish a think-tank in 1985. Over the years, the think-tank attracted 7000 designers, engineers and technicians to develop ideas and concepts for the BMW vehicles of tomorrow.
6. With more than 700 recognized clubs all over the world, BMW has a bigger following than virtually any other brand in the world. Every year BMW crowns one of these clubs as the BMW Club of the Year.
7. The BMW Group is the first automobile manufacturer worldwide to use lightweight carbon in large-series production.
8. BMW cars are also called bimmers. The nickname "bimmer" for BMW cars originated in the US. It was derived from "beemer" or "beamer," names for BMW motorcycles that were first coined in the UK in the 1960s and later spread across the globe.
9. The BMW Headquarters in Munich, Germany was declared a protected historic building in 1999 and is often cited as one of the city's architectural landmarks.
10. BMW's latest innovation is the Digital Emotional Experience – or Dee. "Digital leadership in the car is not about the biggest screen or the highest processing power or even who writes the most lines of code. No, the only thing that really matters is what the user feels and experiences" says Oliver Zipse BMW Chairman of the Board about Dee.
For owners, BMW equals legacy, passion and joy
From the feel of high-quality materials to the unique sound of its powerful engines, luxury design and exceptional engineering, BMWs are designed to offer sheer driving pleasure.
That's what every BMW fan will tell you: nothing compares to driving a bimmer. It's a strong emotional connection that ensures a life-long bond between drivers and their BMWs.
For most of them, it's their dream car. For many, the BMW passion has been passed down from their fathers and grandfathers.
Some travel across the world to purchase a vintage BMW. Others dedicate months or even years restoring their family bimmer.
What they all have in common is joy; the joy of being a BMW owner.
BMW designs cars for the future. And the future is green.
BMW's main goal is to produce the greenest electric car.
Here are some of the steps the company has taken toward achieving its dream:
Alternative textile to leather: a

material that is entirely plant-based, looks just like leather and is produced with less CO2 and wastewater;

Sustainable transport logistics: rethinking network planning to keep the distances as short as possible and then deciding which suppliers to work with. Every kilometer avoided is a CO2-free kilometer. This helps BMW get closer to its goal of reducing supply chain CO2 emissions per vehicle by 40 per cent by 2030;
Green BMW Plant Munich: designing and implementing a sustainable plant encompassing all aspects of sustainability;
Sustainably sourced aluminium: starting in 2024, BMW will source aluminium with significantly reduced CO2 emissions from Rio Tinto's hydro-powered operations in Canada. This approach can save around 70 per cent of CO2 emissions;
Hydrogen fuel cell technology: the BMW Group has begun production of its BMW iX5 Hydrogen model in 2022. The company is investing in hydrogen because it is a versatile energy source with a key role in climate neutrality.
Developed as a design icon and technology innovator, BMW will continue to offer owners the sheer pleasure of driving premium sustainable vehicles over the next 100 years.
Join the Conversation
We'd love to hear from you.
Get in touch with us on our LinkedIn Page, Facebook Page, Twitter or TikTok.