On April 23, 2020, MIT announced that seven MIT undergraduates have developed a new type of lightweight sensor that can be woven into knitted textiles. This sensor can perform vital sign monitoring such as temperature, respiration, and heart rate.
The days when our vital signs were monitored by the doctor, at the hospital are slowly but surely coming to an end.
The latest technology in healthcare and wellbeing allows doctors to monitor our vital signs without setting foot in our home or approaching our hospital bed. There is a wide variety of smart devices that can do that remotely: biosensor patches, hearables and other wearables.
The main disadvantages of these smart devices are that they cover only a small area on the skin and the user wears them for a limited period of time. Other on-skin devices don't have applications outside the bed or for long-term operations.
Clothes, on the other hand, are the closest layer to our body, we wear them all throughout the day and cover a large area of our skin. They are the perfect platform for the integration of electronics to monitor physiological processes through the skin.
However for such integration to be successful, the researchers had to come up with a solution to a few problems that arise from wearing clothes daily: friction, stretching, breathability, humidity and dirt exposure.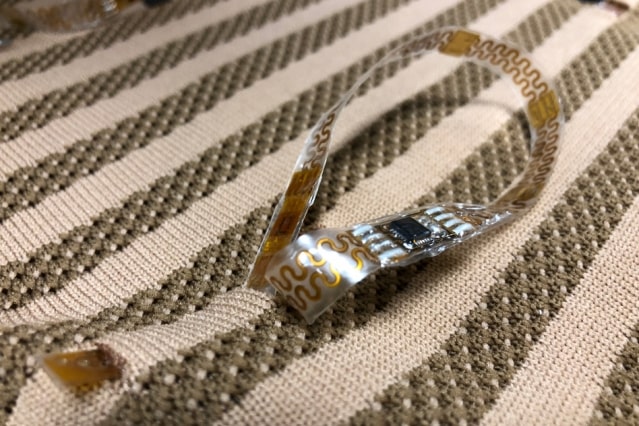 To solve these problems, an MIT undergraduates team has developed a technique of combining thin, customizable conformable electronic devices, including interconnect lines and off-the-shelf integrated circuits, with plastic substrates that can be woven into knitted textile using an accessible and high-throughput manufacturing approach. (Read their research report here)
This knitted textile is very similar to a compression garment. Because the textile stretches over the body, it allows intimate contact between electronics and the skin. The fabric also passed the stretching and washability test.
The tailored, electronic textile conformable suit (E-TeCS)
The MIT researchers have developed a tailored, electronic textile conformable suit called E-TeCS to perform large-scale, physiological (temperature, heart rate, and respiration) sensing in vivo.
The team used standard, accessible and high-throughput textile manufacturing and garment patterning techniques.
Main features of the electronic textile E-TeCS:
The shirt is comfortable
Provides healthcare workers with improved precision of sensor readings on skin
Can be stretched up to 30% under 1000 cycles of stretching without significant degradation in mechanical and electrical performance
Can simultaneously and wirelessly monitor 30 skin temperature nodes across the human body over an area of 1500 cm2
Detects heart and breathing activities
Designed to be washable for long-term use
The breathability of the fabric is 6.22% higher than the standard spandex sports fabric
Monitors temperature change around the body during various dynamic physical activities
The team said they are now working on incorporating additional sensors for monitoring blood oxygen levels and other indicators of health.
The e-TeCS is a great solution in the context of the current COVID-19 pandemic which allows healthcare professionals to continue to manage the needs of coronavirus infected patients with no exposure risk to themselves and other patients.
Join the Conversation
We'd love to hear what you have to say.
Get in touch with us on our LinkedIn Group, Facebook Group or Twitter.