AIRA is a low-cost ventilator developed for COVID-19 patients specifically in just two months' time. Read on to discover its story.
At the writing of this article, 5 million people have been infected with COVID-19 globally since the outbreak.
There is still much we don't know about this virus. Some people are asymptomatic carriers while others experience mild symptoms. There is also a considerable percentage of people in serious or critical condition who require medical attention over a longer period of time usually ranging between 14 to 20 days.
In these severe cases, COVID-19 wreaks havoc on the lungs. The virus causes severe pneumonia with patients gasping for air on account of decreasing rates of oxygen in the blood which can drop as low as 25%. These patients need to be mechanically ventilated to stay alive.
What the world has discovered is that there aren't enough mechanical ventilators to meet the growing demand globally.
Ventilator manufacturers have received tens of thousands of orders from governments and hospitals. They can increase production but not overnight.
Analytics company GlobalData estimates about 880,000 more ventilators will be needed to deal with the demand caused by the coronavirus outbreak globally.
Chris Kiple, chief executive of Ventec Life Systems, a ventilator manufacturer says his company could increase production five-fold in a 90- to 120-day period. That's not nearly soon enough. Many coronavirus patients will die.
The world needs a solution to the global ventilator shortage fast.
The Ventilator Project, a non-profit startup might provide the world with a perfect solution – AIRA.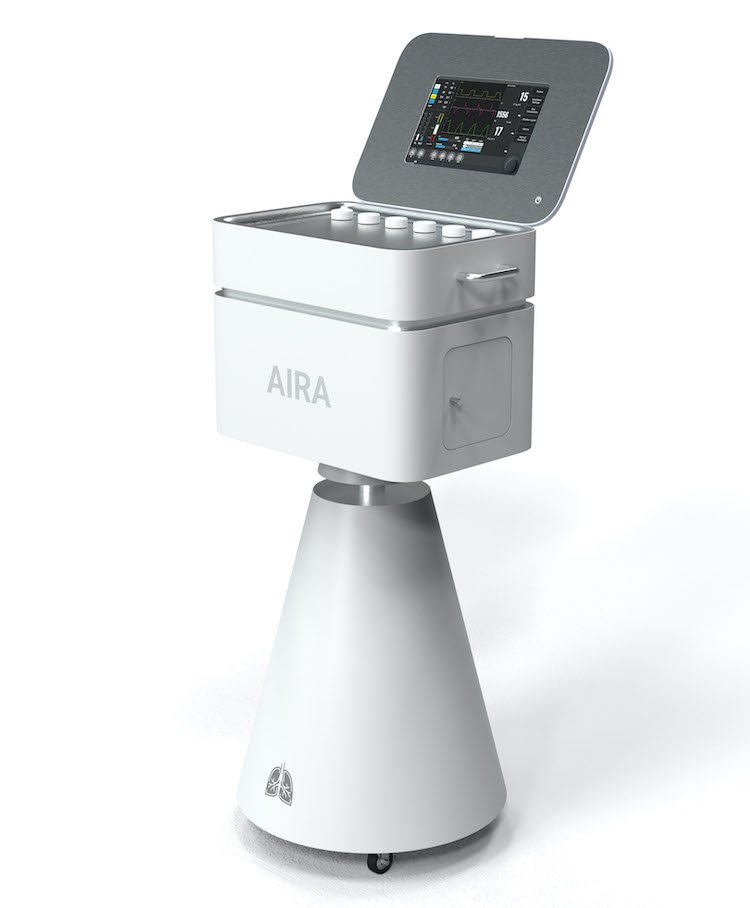 AIRA is a low-cost ventilator developed for coronavirus patients specifically.
This ventilator prototype is low-cost because it is built to be easily scalable and uses materials that are sourced from outside the biomedical supply chain.
AIRA has 1.8 litres capacity of air volume, has achieved all three necessary modes of control – pressure control, volume control, and pressure support – and is also fitted with a microcontroller, or the "brain" of the ventilator.
The Ventilator Project was co-founded by robotics entrepreneurs Tyler Mantel and Alex Frost.
Together they've embarked on a mission to combat the global ventilator shortage. But they couldn't do it alone so they asked for help. AIRA is the result of two months worth of sustained work delivered by an amazing team of 250 volunteers that answered their call.
Every member of the team has devoted their time and expertise to bring this project to life often putting in 18-hour workdays. The team is composed mostly of engineers, but it also includes a biomaterials researcher, a legal consultant, project managers, industrial designers, a pulmonary specialist, an anesthesiologist, a respiratory therapist, salespeople, marketing & PR specialists.
The team is advised by Ken Krieger, an inventor with 25 patents and a Google engineer. Katie Forster, product technical specialist at Pinterest has assembled a 15-person team and is overseeing all marketing efforts of the project. The startup also benefits from the extensive experience of Lance Leggitt, a former Deputy Assistant to POTUS on Domestic Policy.
Two months ago the project didn't exist. Three days after the project was founded, fifteen engineers were already working on designs for the ventilator. The dedication of these professionals is remarkable and is a testament to what people can do when they come together with the same goal.
The team knows they need to get AIRA out as fast as possible. The ventilator is currently undergoing testing for Emergency Use Authorization but they need money to manufacture the machine and distribute it globally.
The Ventilator Project has set out to raise $200,000 in donations. So far they've raised $76,000.
If you wish to support their cause, you are invited to donate here.
Join the Conversation
We'd love to hear what you have to say.
Get in touch with us on our LinkedIn Group, Facebook Group or Twitter.