Get a 20% tickets discount to the next BRAND MINDS
World changers, the moment you've been waiting for has finally arrived!
The upcoming BRAND MINDS presents an amazing opportunity:
a 20% ticket discount

.

There are only 100 discount code uses available so hurry up and find out the code here.

1st speaker and the event's date to be announced on
July 12th

on

www.brandminds.ro

Subscribe to the 20% discount campaign on www.brandminds.ro to be the first to find out!

Be ready to experience a memorable business conference about:
BRILLIANT PERSONAL & PROFESSIONAL GROWTH TACTICS
BUSINESS SCALE-UP IDEAS
PERFORMANT MARKETING & SALES STRATEGIES
THE LATEST LEADERSHIP INSIGHTS
PURE INSPIRATION AND PHENOMENAL THINKERS
UNIQUE NETWORKING OPPORTUNITIES
World-famous thinkers will speak at BRAND MINDS
BRAND MINDS is about business minds and bestselling authors coming together on the same stage to deliver the hottest trends and insights on leadership, entrepreneurship, marketing, sales, personal development and team performance.
7 benefits of attending BRAND MINDS:
LEARN FROM THE WORLD'S TOP 1%
To get ahead of the competition, you must learn from the world's best experts. BRAND MINDS is the gathering of world-famous business thinkers who share valuable insights.
BECOME AGILE
BRAND MINDS is where you learn how to turn every change into an opportunity for growth.
SKYROCKET YOUR MARKETING SKILLS
Become a successful marketer by acquiring and developing new skills. World-famous experts will teach you what works and what doesn't, in marketing.
UPGRADE YOUR SALES STRATEGY
It's time to upgrade your sales strategy by learning from top sales experts actionable tactics to leverage consumer behaviour.
GET SCALE-UP IDEAS
Every BRAND MINDS speaker delivers actionable scale-up ideas. Get inspired and apply the most appropriate ideas to scale up your company.
BUILD HIGH-PERFORMING TEAMS
Learn how to build high-performing teams by learning from outstanding leadership and management experts.
BE INSPIRED BY BRILLIANT BUSINESS IDEAS
It's your time to reach for the stars and BRAND MINDS is where your journey begins.
When opportunity knocks on your door, be prepared to answer it: get your 20% discount today!
For any questions or inquiries, please contact our Concierge Team at contact@brandminds.ro.
13 business models to generate revenue
How businesses can generate revenue has changed a lot over the last decade. Choose the most appropriate business model for your company from these 13 business models updated for 2021.
1.
Control and be rewarded from your own data

business model

In exchange for convenience and a personalized experience, brands have been telling consumers to give away their personal data and relinquish any control over it.

We now know how brands used their consumers' data and the damage they have caused.

Also, selling users' personal data to third parties has been a huge source of revenue for these companies.

According to the latest PwC report, times are changing.

Consumers are demanding both a better, data-enabled experience and more flexibility and control over how their information is used.

In addition to this, consumers are starting to ask themselves: why should only companies profit from selling their data? They should take a piece of the pie as well.

Gener8 Ads is a web browser offering exactly that: it lets users control and earn from their data whilst browsing the web.

Gener8 Ads works with companies in the capacity of a media owner to do three things:

1. Provide premium media for them to reach a highly defined audience.
2. Use their proprietary first-party data to unveil actionable insights about their customers, eg. their purchase habits.
3. To promote their brands and drive action from their audience.

How does Gener8 Ads generate revenue?

Gener8 Ads gives 80% of the revenue back to the user and takes a 20% cut.

Users download the Gener8 Ads browser and choose to keep their data private or earn points any time their data is used. They can redeem these points for products, vouchers or donations to charity.

Watch Sam Jones, the company's founder pitch Gener8 Ads on Dragon's Den:
2.
Empowering creators

business model

What is the creator economy?

The creator economy has been growing exponentially in the past few years. It is estimated that more than 50 million people worldwide consider themselves to be creators.

Mighty Networks defines the creator economy as an economy built around highly motivated, creative, and skilled individuals that have started their own brand, business, or community utilizing a digital platform to share their work.

Not coincidentally, Mighty Networks is one of the platforms contributing to the creator economy. It is a community-focused platform that helps users build their businesses.

Mighty Networks offers users three plans they can choose from: the free plan, the business plan ($81/month) and the community plan ($23/month).

This is how users can drive business revenue depending on their chosen pricing plan:
Charge for access to their membership site or group
Charge for access to their online courses
Becoming a Mighty Affiliate
3.
Shopstreaming

business model

Shopstreaming is the combination of live streaming, entertainment and shopping.

China is leading the shopstreaming market with 67 billion dollars in global sales for 2019 and an estimated 149 billion dollars for 2020.

If these stats show anything is that consumers want to buy from influencers during shopstreaming sessions.

It's a business opportunity that saw various developers create digital platforms intended to transform the way to stream live events.

Livescale is one such developer. The company's shopstreaming platform, LivescaleTV enables businesses to reach, engage, and monetize their audience, as well as understand the behaviours and interactions of their users.

L'Oréal Canada was the latest brand to use Livescale TV when they hosted a three-day shopping streaming festival.

Results:
over 50% of product purchases from new customers,
300% higher conversion rate than the company's website,
40% audience engagement.
4.
Blockchain-as-a-service

business model

According to recent reports, the global blockchain-as-a-service market size is expected to grow at an impressive compound annual growth rate of 62.73% to $52.5 billion by 2026.

Blockchain as a Service (BaaS) is a type of blockchain service offering that allows business customers to use cloud-based solutions to develop, host and adopt their own blockchain applications, smart contracts and other relevant functions on the blockchain.

The main drivers of the global Blockchain-as-a-Service market are:
increasing awareness of the benefits provided by blockchain technology;
need for security in transactions.
The top leaders operating in the Blockchain-as-a-Service (BaaS) market: Oracle, Microsoft, Accenture, Alibaba, IBM and Huawei.
5.
Subscription

business model

The subscription business model is a business model in which customers pay a recurring price at regular intervals for access to a product or a service.

The first companies to adopt the subscription business model were the news publishers whose readers paid a monthly fee to have newspapers and other magazines delivered to their door.

In more recent times, companies providing digital tools and platforms like Canva, Monday or Grammarly generate recurring revenue based on the subscription business model.

Other companies didn't start as subscription-based businesses but recognized an unmet need for their products to be delivered on a monthly basis.

Customers opt for products to be delivered on a monthly basis because it's convenient and saves them precious time.

Here are some examples of products delivered in subscription boxes; some also provide customization:
6.
Freemium

business model

Freemium is a business model in which a company offers basic features to users at no cost and charges a premium for supplemental or advanced features.

It's an appealing strategy for both companies and customers. Free is a powerful word in marketing because of its ability to instantly grab a customer's attention. If basic free features are valuable to them, customers are more likely to pay for advanced or additional features.

When used correctly, the freemium business model can drive massive user adoption.

Dropbox, Zoom and Spotify are great examples of the freemium business model.

Dropbox has an annual revenue of $1.91 billion, Zoom – $2.6 billion and Spotify, $9.34 billion.
7.
Dropshipping

business model

The dropshipping business model is used in retail where the seller purchases the product from a third party (manufacturer or wholesaler) and has it shipped directly to the customer. The seller doesn't hold the products in stock.

The main benefits of the dropshipping business model:
Low investment
Easy to start
Perfect for beginner entrepreneurs
Flexibility
Remote work
Easy to scale
Wide selection of products
Among the top eCommerce platforms for dropshipping businesses are Amazon, Shopify, WooCommerce and Magento.
8.
Drop-servicing

business model

Drop servicing is a business model where your company sells other people's services online.

Your company doesn't perform the service, a third-party company performs the service.
9.
Commission-based

business model

The commission-based business model is a revenue model where a user is charged a fee for each transaction. The platform may charge either the seller or the buyer.

Examples of commission-based businesses: PayPal, Uber, Airbnb, Etsy, eBay.
10.
Hidden revenue

business model

If the service is free, you are the product, goes a very famous saying.

What it means is the service is not actually free. As the user, you pay for it, not with money, but with your personal data.

It's the business model of digital giants like Google, Facebook, Instagram, Pinterest etc which collect users' data and sell it to businesses for advertising purposes.

In 2020, Google generated almost $147 billion in revenue from the company's ads business. Facebook generated close to $84.2 billion in ad revenues.
11.
Razor and blade

business model

The razor and blades business model is a business model in which one item is sold at a low price in order to increase sales of a complementary good, such as consumable supplies.

The best examples of companies generating revenues with this type of business model are suppliers of razors and blades (Gillette), printers and ink cartridges (Xerox), coffee makers and coffee pods/capsules (Nespresso), 3D printers and printing materials, game consoles and games.
12.
Reverse razor and blade

business model

The reverse razor and blade business model is a type of business model where the main product is sold at a premium price and the consumable, at a lower price.

Apple is the standard example of the reverse razor and blade business model. The main product, the iPhone, is sold at a premium price. Once the customer owns an iPhone, they have access to low-priced features like music on iTunes, movies or Mac OS and iWork free of charge.
13.
Affiliate marketing

business model

The affiliate marketing business model is a revenue model in which a company compensates third-party publishers to generate traffic or leads to the company's products and services.

The publishers are paid in commission for every sale they make.

How does it work?

The affiliate shows a link for the product they are selling on their website or social media, customers click on the link which sends them to the store. If they purchase the product, the affiliate is paid a commission.

Two of the top-earning affiliate marketing platforms are Amazon Associates and Shopify Affiliate Program.

Join the Conversation
Leverage these 11 keywords & topics before they take off
What are people looking for on search engines? What are people talking about in groups on social media?
Here are 11 keywords & topics seeing amazing growth over the past month courtesy of Exploding Topics that savvy marketers should leverage before they take off.
1.
Convertkit

(keyword)

Convertkit is an email service provider with features and pricing that cater for online content creators (bloggers, YouTubers, illustrators etc).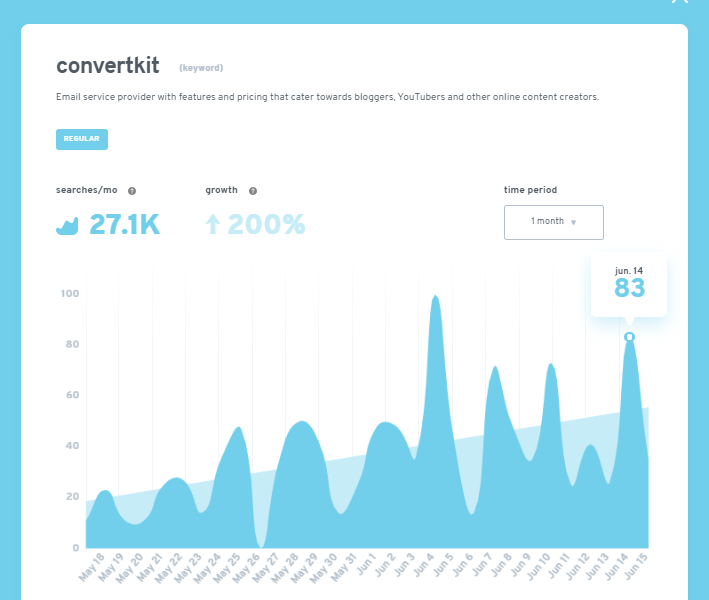 This service assures customers that they will spend more time on creating and less time on marketing. The provider's positioning is well aligned with the creator economy, a new marketplace where people are making money by creating content and monetizing it.
Almost every social media platform has joined the content creation trend, from Facebook to Clubhouse, even Twitter! by launching programs to pay its content creators. Learn more here: 9 social media apps paying their content creators.
2.
Heepsy

(keyword)

Heepsy is an influencer-finding tool. Founded in Spain, it links brands to internet personalities in relevant niches.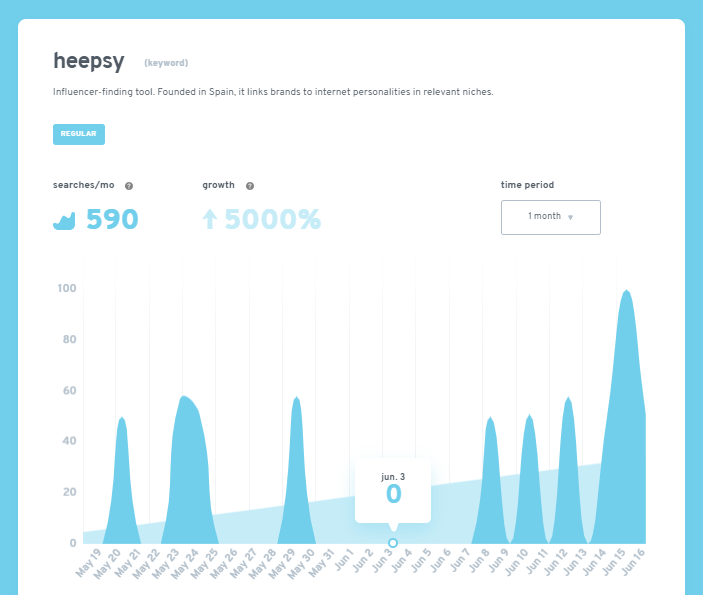 Influencer marketing is becoming one of the most important strategies used by marketers to drive brand awareness and sales.
According to eMarketer, 67.9% of US marketers from companies with 100 or more employees will use influencer marketing in 2021, up from 62.3% last year. In 2022, that figure will rise to 72.5%.
Is your company providing users with a similar tool or app? Are your customers looking for information on how to work with influencers? If they are, you could create content to answer their questions.
3.
Growth hacking

(topic)

A broad term used to describe a set of strategies designed solely for the purpose of increasing the growth of a company.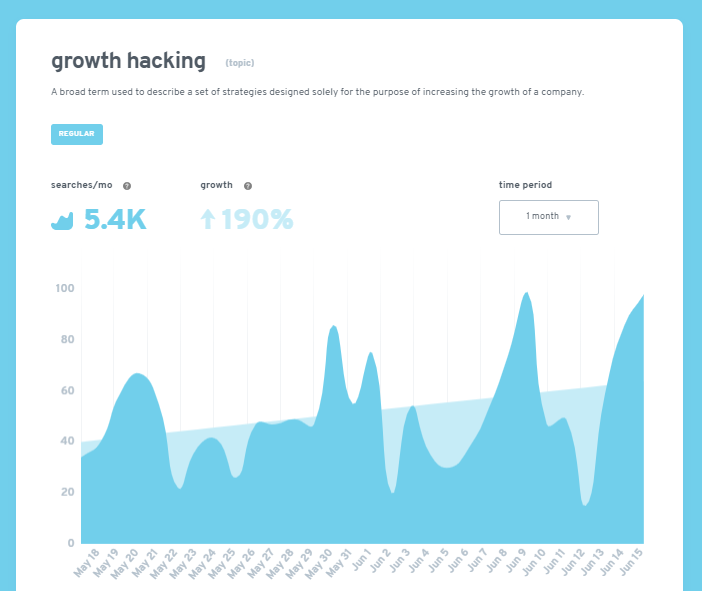 Take advantage of the increasing interest that people show for this topic and create content for growth hacking or growth hacking related keywords such as growth hacking marketing, growth hacking strategy, or growth marketing tactics.
Research the topic on Google or Answerthepublic.com.
4.
Competitor analysis

(topic)

Study of the strengths and weaknesses of potential business rivals.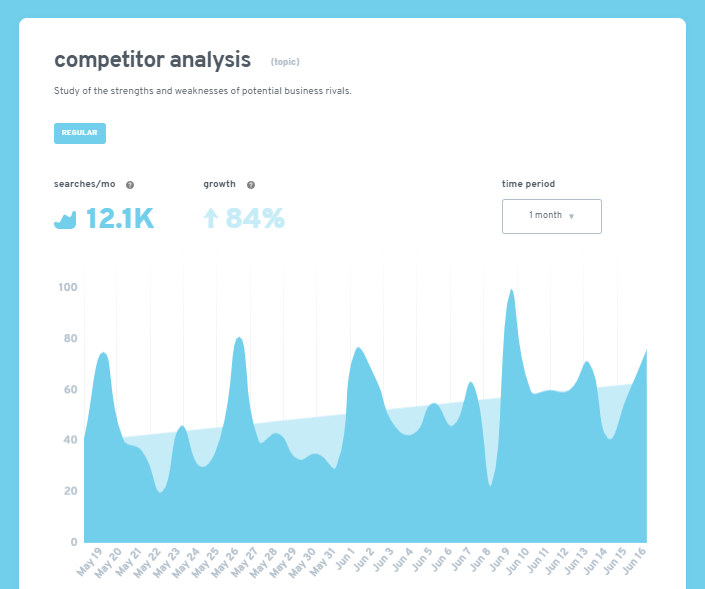 Wondering how to leverage this topic? If you market a competitor analysis tool, make sure to create content on this topic and related keywords.
It is possible to dominate a particular keyword with stellar content. The first two of 1,5 billion results for design template is Canva.
5.
Explainer video

(topic)

Short video, often animated, explaining a product or brand. Used for sales and marketing, typically either on a landing page or externally.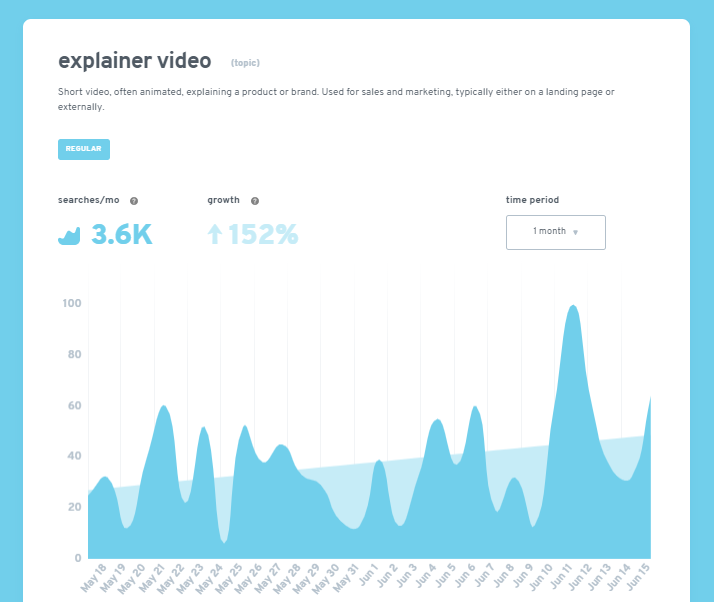 Do you provide video services? Are you a marketing agency?
Create content around the explainer video topic and its related keywords to leverage this increased search intent on Google.
6.
Drop servicing

(keyword)

Also known as "service arbitrage", this is the digital equivalent of sub-contracting.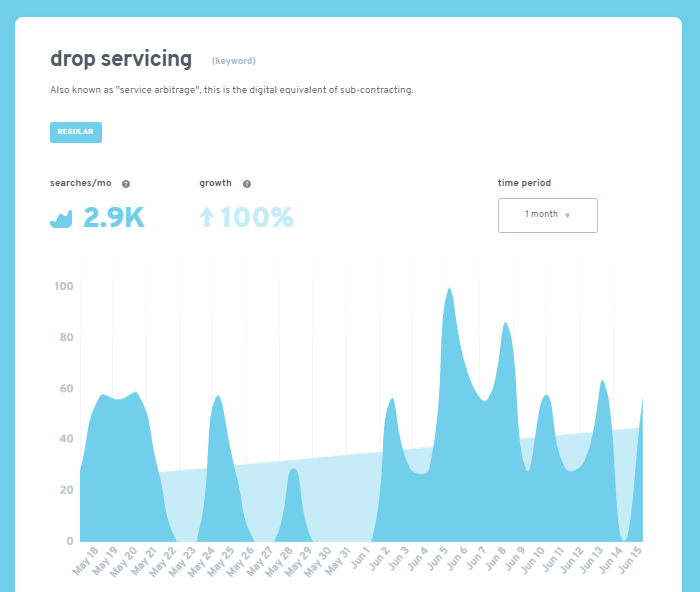 If you're in the business of educating young entrepreneurs, creating content on drop servicing could be a good opportunity to increase website traffic.
Also, consider writing content that answers most questions like Is drop servicing profitable? How do I start a drop service?
7.
Geru

(keyword)

SaaS company that helps with planning and optimizing marketing funnels.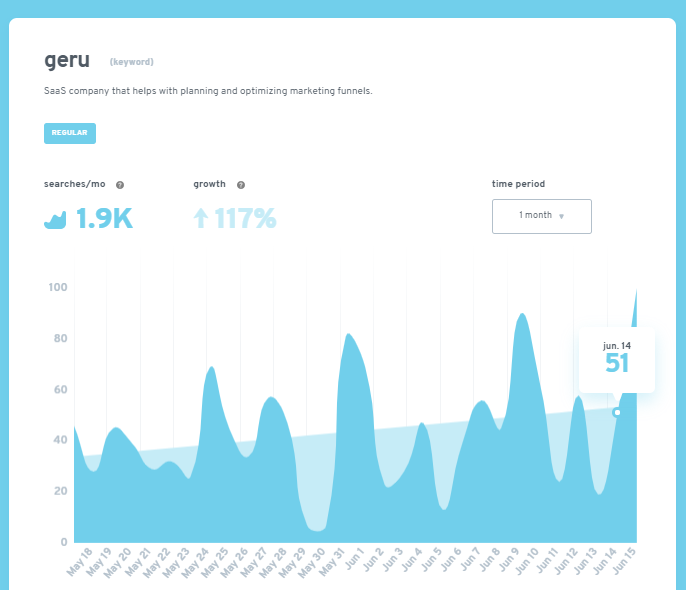 How can you increase website traffic or generate brand awareness if you provide similar services as Geru?
By creating a brand x vs brand y type of content where you highlight the differences between the two services and how your service benefits your customers.
8.
Surfer SEO

(keyword)

Data-driven SEO subscription service making recommendations for improving search rankings based on what is objectively working elsewhere.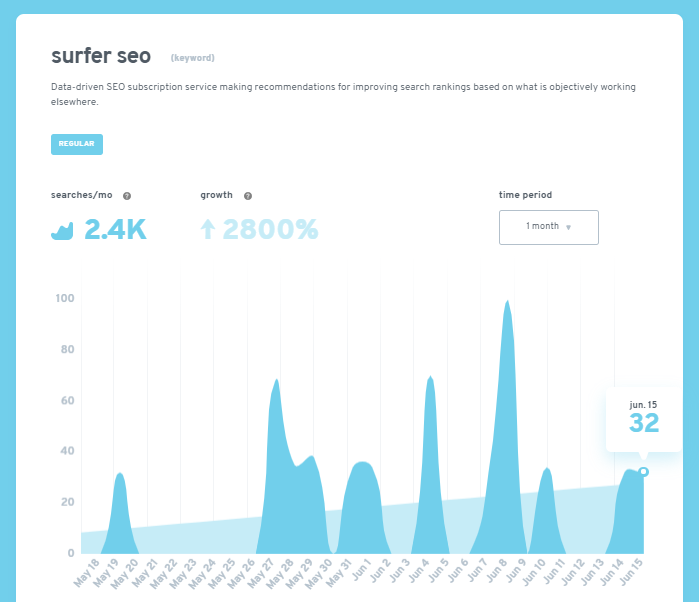 Every company with a website is competing to attract visitors from Google therefore Search Engine Optimization or SEO is one of the most searched for keywords.
Tools or platforms that provide businesses with recommendations on how to rank higher in search are in high demand. If you've had great results with your SEO strategy, share it in your content.
9.
Designrr

(keyword) EXPLODING

Software that turns blog posts and other forms of content into eBooks and Kindle books.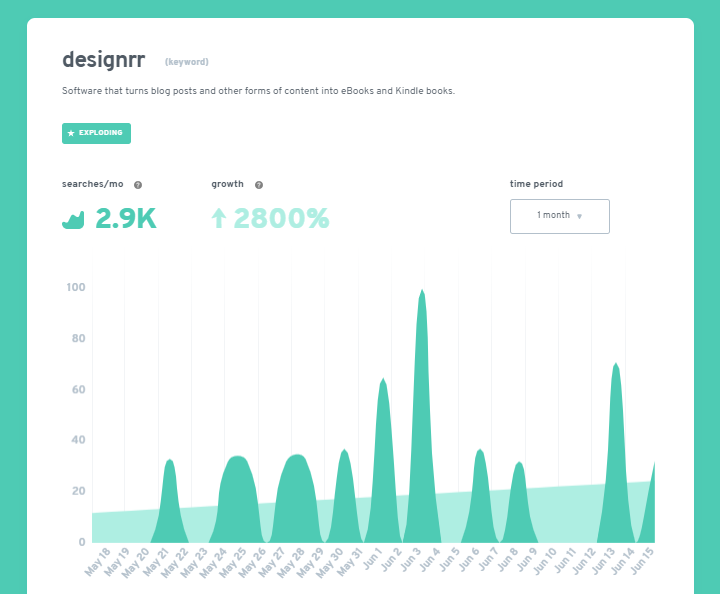 Doing content marketing is an amazing way to raise brand awareness and increase sales, but it's a long-term strategy and resource consuming.
Any tool that can take one piece of content and reshape it into a different format is invaluable to small and medium businesses.
Let's say you've struck gold with a traffic generating blog article. You can reach an entirely new audience by turning it into a video. Or a carousel on Instagram. Or a board on Pinterest.
Designrr is the latest talk of the town but you can also ride this wave by writing a blog article where you list other similar platforms besides Designrr.
10.
Teachable

(keyword) EXPLODING

Teachable.com is an online course creation and management software platform.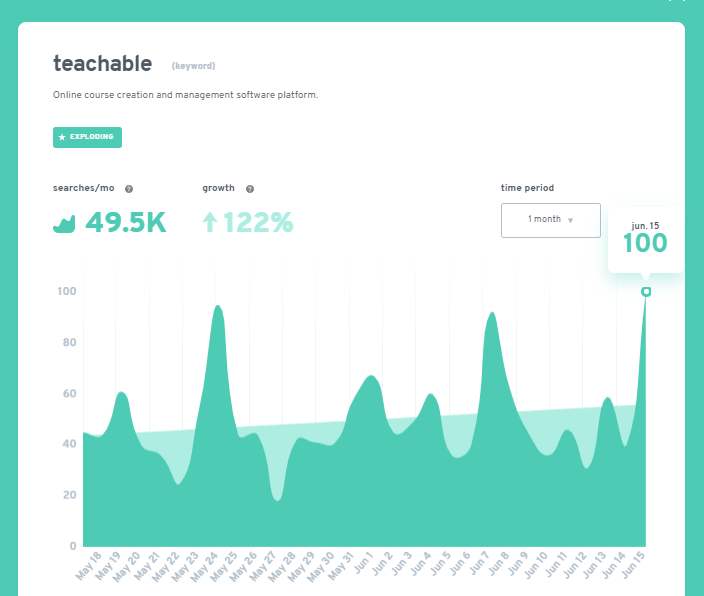 Why is the search for teachable exploding? We are now seeing a new economy growing exponentially: the creator economy.
Everyone has something to teach others.
Do you have a lush garden that you are dedicated to and work in every day? If you are willing to share knowledge, others are looking to learn from you.
Are you an experienced accountant? Small business owners are looking for specialists to teach them how to do their taxes.
If your customers are experts or specialists and are willing to teach others the tools of the trade, you could find ways to help them achieve this objective.
11.
Voice search SEO

(keyword)

The act of optimizing a website to include searches that are made using voice searches.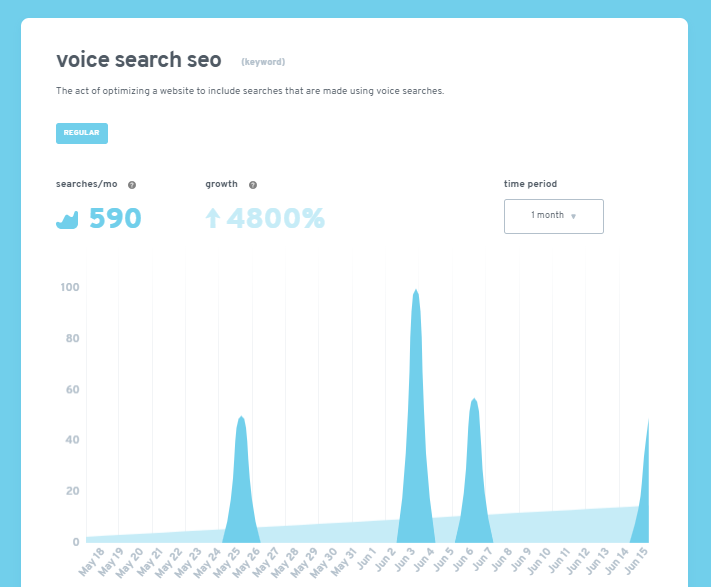 Amazon Echo dominates the digital assistant market at almost 70% followed by Google.
It's no surprise that voice searches are increasing and interest in voice search SEO has grown 4800%.
vCommerce is the next stage of eCommerce designed to include voice shopping.
Voice is changing customer behaviour and business owners and marketers must adapt. Create content that teaches your customers how to optimize their website for voice searches. If you are a marketer, learn more about voice here.
2021 Cannes Lions Awards: 3 winning campaigns
The 2021 edition of the prestigious Cannes Lions Awards competition is underway. Here are 3 winning campaigns.
1. Tennessee Tourism –
Laugh Tracker
Gold Lion – Data-Enhanced Creativity category
Data is the oil of the digital era, said The Economist in a 2017 article on antitrust rules.
Exchanging free access to services provided by tech giants like Facebook and Google for personal data didn't seem to mind users very much back in the early 2000s.
Until the Cambridge Analytica scandal when people realized that their personal data had been sold by Facebook to a third-party organization that used it to push a political agenda.
And that's not the only example of businesses and organizations using personal data for their own gains. That's why data has got a bad reputation in recent years.
For many, data equals manipulation and gains at the expense of the owners of that said data, the users. But data is much more than that. In the right hands, data provides solutions.
Such is the case with Tennessee Tourism. They identified a problem and used data and technology to find a solution.
Here is the problem: fake online reviews are impacting the travel industry. According to this report, 8% of Yelp's reviews are fake.
At the end of 2020, a total of 224 million reviews had been submitted to Yelp, which means there are almost 18 million fake reviews.
The same report calculated that these fake reviews are directly impacting $4.1 billion in consumer spending this year alone.
Tennessee Tourism didn't set out to identify and delete fake reviews but changed the metric altogether. What's more real than kids' laughter? Kids laughing is a sign that they're having fun. Why not measure it and present it to the parents in lieu of online reviews when searching for travel inspiration?
And that's exactly what Tennessee Tourism has done. Check it out:
Campaign results for 31 locations in Tennessee:
2.023.723 data points analyzed
1.667.760 seconds of laughter recorded
Laugh maps filtered by age
5.9 million hotel and flight searches
+6.2% increase in hotel demand
$142 to $1 return on ad spend
2. Cheetos –
Can't touch this
Grand Prix – Creative Strategy – Food & Drink
While for most snack-eating lovers, getting their hands dirty is a problem, that's not the case for Cheetos fans.
The orange powder that eaters get on their fingers when eating Cheetos (which is called cheetle, by the way) is a great excuse to help them get out of unwanted situations. Can't hold your baby, I've got Cheetos on my fingers! Can't help you carry that heavy sofa, I've got Cheetos on my fingers!
The classic 90s hit rap song Can't touch this by MC Hammer is the perfect match for this Cheetos ad.
Also, the song turned 30 in 2020 which is one more reason to become the ad's anthem.
3. Reddit –
SuperbOwl
Grand Prix – Social & Influencer – Real-time Response
In January 2021, Reddit users on the r/wallstreetbets subreddit built the foundations for a short squeeze on GameStop, pushing up the stock price significantly.
GameStop is an American chain of brick-and-mortar video game stores that has been struggling in recent years due to competition from digital distribution services, as well as the economic effects of the COVID-19 pandemic.
The subreddit r/wallstreetbets is an online community on Reddit known for discussion around high-risk stock transactions.
Short selling is the process of betting on a stock that one knows is going to fall. The short squeeze on GameStop occurred when Reddit users noticed hedge funds were heavily short selling the stock, especially Melvin Capital.
The battle between amateur investors and multi-billion dollar hedge funds on Wall Street ensued. It was the battle between David and Goliath and attracted a lot of media attention. And just like the legend, the underdogs won.
The retail investors began a stock trading frenzy which led to raising the stock price by 1,700%. Short sellers lost an estimated $23.6 billion on GameStop in this rally with claims that Melvin Capital had gone bankrupt.
To celebrate the win, Reddit took out a 5-second ad for the Super Bowl. And the ad was exactly this: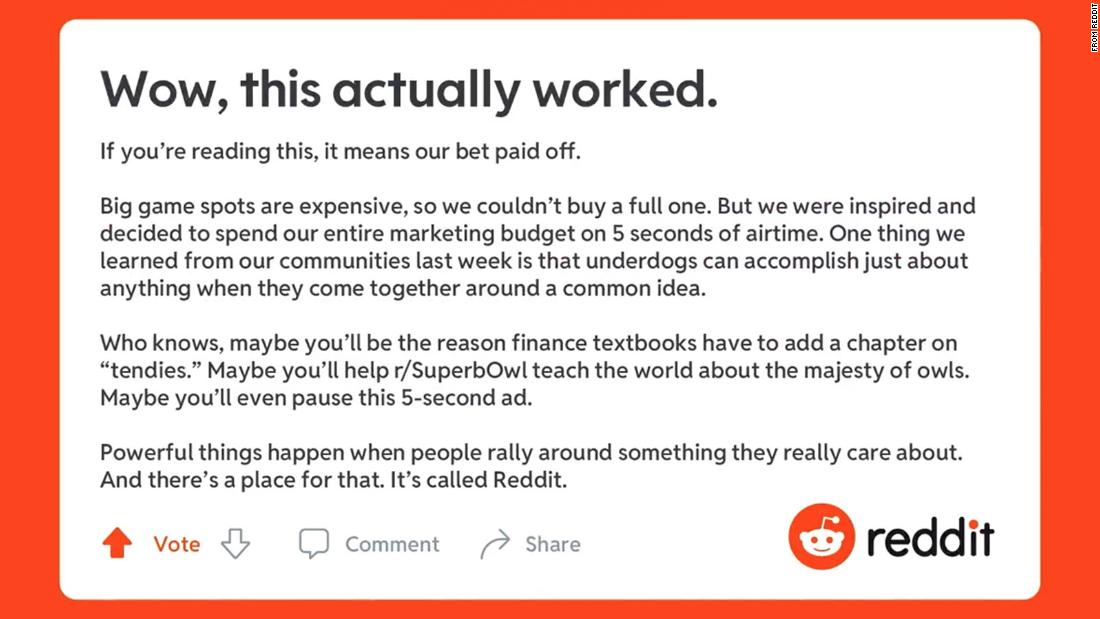 Since the ad was practically impossible to read, the viewers had to rewind the show and pause the ad.
The copy refers to the GameStop frenzy and celebrates the power of Reddit communities which are as odd as they can come. The SuperbOwl is a fun play on SuperBowl.
Paying close to a million dollars for an ad impossible to read prompting viewers to go to great lengths to see it is a bold move, but it paid off. The campaign won the Cannes Lions Grand Prix in Social & Influencer – Real-time Response.
Join the Conversation
We'd love to hear what you have to say.
Get in touch with us on our LinkedIn Page, Facebook Page, Twitter or TikTok.
Follow these 10 essential copywriting rules to influence your audience
Copywriting is the art of influencing your audience. Follow these 10 essential copywriting rules to achieve your goals.
Copywriting rule #1
Write your copy in the second person – YOU
In copywriting, it's not about the brand or the company; it's about the audience.
Write as if you are in the same room with him or her and you are having a conversation.
Copywriting rule #2
Write with your audience in mind
Selling to everyone means selling to no one, says one of the most important rules in sales and marketing.
That's why marketers have buyer personas, to ensure that their messages reach and resonate with a specific customer.
Acquire as much information and insights on your customer as possible but go beyond the obvious demographic data: age, sex, marital status, job role etc.
Get into the mind of your customer and make sure you have an in-depth understanding of their problems and pain points, goals and aspirations.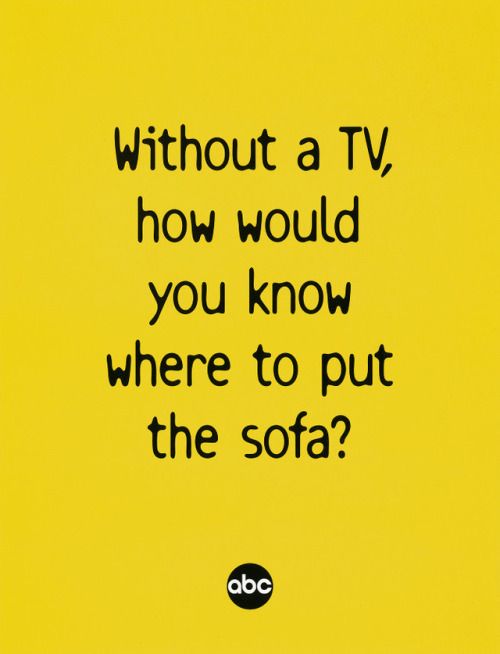 Copywriting rule #3
Mirror the emotions of your audience
What copywriters should never forget is that customers are people with emotions and more often than not, their buying decisions rely on emotions.
People buy when they are emotionally triggered and use logic to justify their purchase decisions.
When writing copy, speak to your customers' emotions.
Let them know you are aware of how they feel. Empathize with their problems and show them the solution. When your customers see their emotions reflected in copy and design, they are more likely to keep your brand top of mind.
Copywriting rule #4
Use your headline as the hook of your audience's attention
We live in a busy world where there's little time to catch our breath.
Social notifications glimmer on your phone's display, the inbox is flooded with urgent messages and tight deadlines give you anxiety.
Your headline has to be so great that it prompts your customers to ignore everything else going on around them and read your copy. Imagine your headline as the hook with which fishermen capture fish. Make your headline relevant and enticing.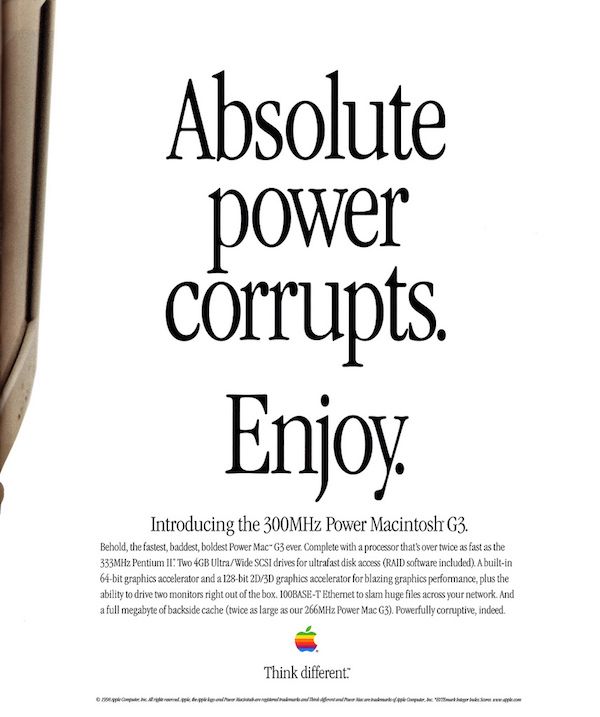 Copywriting rule #5
Your headline should be short and clear
When writing copy, always remember that you are not writing a novel.
You could start with a one-page copy if you like, but be aware that you need to shorten your story.
Learn to deliver the punch in fewer words than your initial draft. Also, you can start with a long headline, but work to shorten it while maintaining clarity.
Exercise by telling the same story in 100 words versus 10 words. It's not easy, but it's achievable.
Copywriting rule #6
Insert powerful words
If you google copywriting rules, which result do you click on?
When you see five headlines that are the same, you won't be able to decide which to click on and read.
Your mind will automatically look for a different headline, a headline that gets your attention by differentiating itself from the rest.
These headlines contain power words such as top, essential (check the headline to this article), unbreakable, golden, powerful, critical, mind-blowing and so on.
If you want to learn how to optimize your headlines with power words, check out Headline Studio by CoSchedule, a wonderful Chrome extension that can work wonders for your copywriting.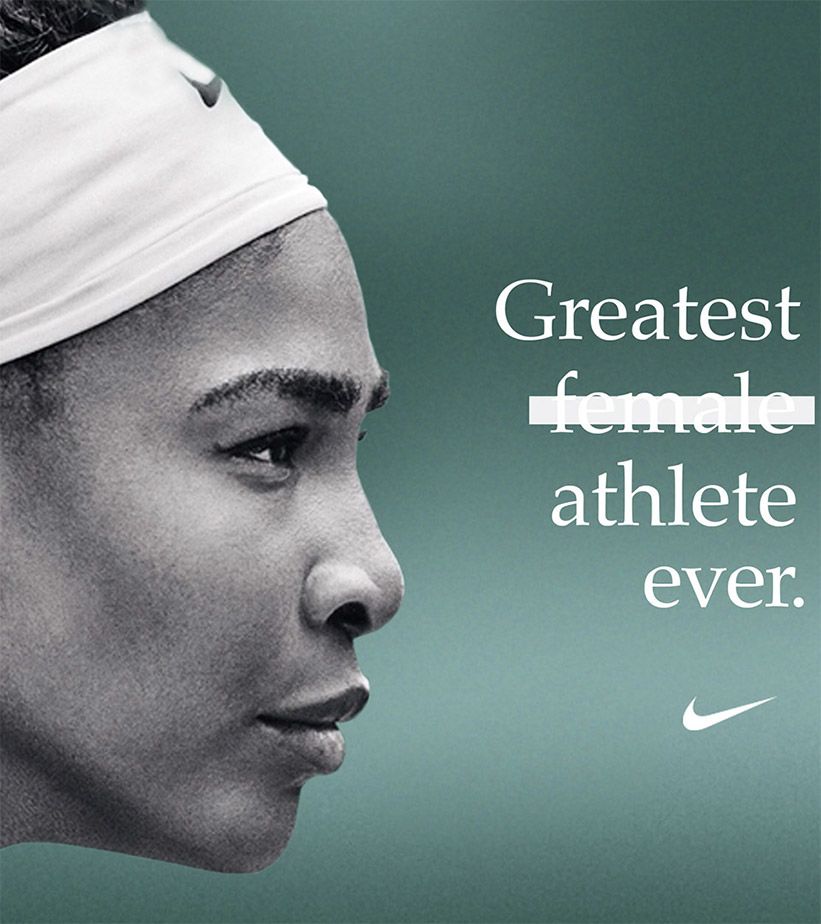 Copywriting rule #7
Turn features into benefits
Don't talk about the product's features in your copy.
Nobody wants to read technical details: how much horsepower, how many inches, how many colours, how many hours etc. Instead, turn those features into benefits for your customer.
The smartphone is so slim you can fit it into your shirt pocket. The camera is so powerful you can take a high-resolution photo of Betelgeuse, one of the brightest stars in the night sky. This pair of jeans is so comfortable you can dance the tango in them.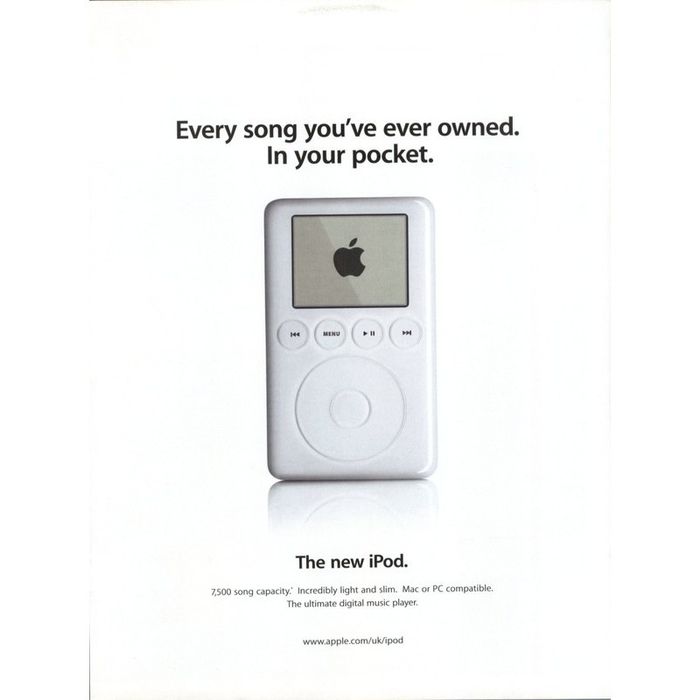 Copywriting rule #8
Always end with a call to action
No matter how beautiful or smart or surprising your story is, it doesn't achieve its purpose unless you include a call to action.
Let your audience know what you want them to do next. Use the call to action to direct them to the next step.
Do you want them to visit your landing page? Do you want them to click on your video?
Whatever it is, make sure your call to action is clear and easy to read.
Copywriting rule #9
Make your call-to-action specific
The call to action in your copy is very important. Avoid writing a generic call to action like Download or Learn more.
Remember that the main objective of your copy is to influence your reader's behaviour and in this case, the expected behaviour is to click on a button. You need to give him a good reason to do so.
Download is the literal description of the action of download and Learn more is not strong enough.
Tie your call to action copy to the reader's needs. Let them know how their lives improve by clicking on the download button.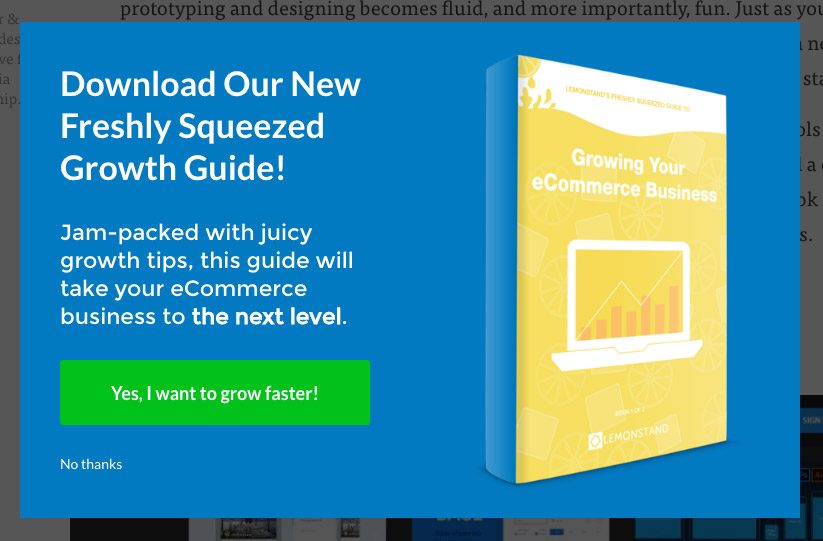 Copywriting rule #10
Make benefits measurable
What is the best way to influence your audience?
Tell them your product or service provides measurable results.
They can increase their sales 3 times or write with 90% fewer mistakes or get their Facebook ads approved within 30 minutes instead of 24 hours.
Find the one benefit that you can measure and turn it into a number. This particular number has to provide the best solution to your audience's problem.
Join the Conversation
We'd love to hear what you have to say.
Get in touch with us on our LinkedIn Page, Facebook Page, Twitter or TikTok.
10 copywriting books to become a successful copywriter
Learning to write great copy that sells is every marketer's goal. Read on to discover 10 books on copywriting you should read now.
1. Dan S. Kennedy – The Ultimate Sales Letter: Attract New Customers. Boost your Sales.
Dan S. Kennedy is one of the world's highest-paid copywriters. Internationally recognized as the 'Millionaire Maker,' Mr Kennedy has helped people in just about every category of business turn their ideas into fortunes and influenced well over 1-million independent business owners annually through his newsletters.
The Ultimate Sales Letter has clear and dynamic examples that will help you write the ultimate sales letter. It will help you target your customer base as quickly as possible and draw them in with Dan Kennedy's creative and inspiring graphic enhancement ideas at their fingertips.
Some of the book's highlights:
Tips for improving readability
How to use bullets, lists, numbering, underlining, bold-facing, size and font style
How to use the P.S. to their advantage
Always enter the conversation already occurring in the customer's mind.
Dan S. Kennedy
2. Joseph Sugarman –

The Adweek Copywriting Handbook: The Ultimate Guide to Writing Powerful Advertising and Marketing Copy from One of America's Top Copywriters
In this practical guide, legendary copywriter and ad man Joe Sugarman provides proven guidelines and expert advice on what it takes to write copy that will entice, motivate, and move customers to buy.
Here are a few chapters that I believe will intrigue and draw your attention:
Copy as emotion
Selling the concept not the product
The psychological triggers
The prospect has basic emotional needs that your product will solve, regardless of how sophisticated or simple your product offering is. Examine those emotional needs.
Joseph Sugarman
3. John Carlton-

Simple Success Secrets No One Told You About (The Business Pro's Essential Toolkit)
Mr Carlton has been called "the most respected and ripped-off copywriting wizard alive", because so many of his ads are still used as templates by other marketers. He almost single-handedly transformed the way print ads worked through sizzling long-copy ads.
Edgy copy that demands to be read. Demands it.
John Carlton
4. Eugene M. Schwartz – Breakthrough Advertising
Direct copywriter Eugene M. Schwarz wrote for the most successful direct marketers in the U.S., helping them sell hundreds of millions of dollars worth of products across different industries.
His book, Breakthrough Advertising is a game-changer, an advanced marketing/business book that will reveal how to find the breakthrough headline that is right for your product.
The greatest mistake marketers make is trying to create demand.
Eugene Schwartz
5. Drayton Bird – Commonsense Direct and Digital Marketing
Commonsense and Digital Marketing gives the marketer the tools, techniques and structures needed to produce effective and profitable marketing across the direct marketing spectrum, from simple letters to focused web-based campaigns.
For anyone involved in direct marketing, this book provides not just the structure for success but also an energizing insight into the techniques behind some of the world's most successful direct marketing campaigns.
Drayton Bird has been writing copy for over 60 years. He worked side by side with David Ogilvy. He is also a big proponent of conversational copywriting.
In 2003, the Chartered Institute of Marketing named Drayton Bird one of 50 living individuals who have shaped today's marketing.
Here is a selection of book chapters you could find highly useful:
How to test and evaluate your results
Positioning and other mysteries explained
How to get started
Your brand image is primarily an emotional construct. Emotion is probably always more powerful in swaying people than reason, but people like to be able to rationalize their choices.

Drayton Bird
6. Doug Pray – Art & Copy: Inside Advertising's Creative Revolution
Art & Copy is a powerful film about advertising and inspiration.
It reveals the work and wisdom of some of the most influential advertising creatives of our time, people who've profoundly impacted our culture.
Their work grabbed the attention of millions and truly moved them. The social and cultural impact of their ads is brought to light in this dynamic exploration of art, commerce, and human emotion. Meet the authors of magic words like "Just Do It," "I Love NY," "Where's the Beef?," "Got Milk," "Think Different".
7. D & AD – The Copy Book: How some of the best advertising writers in the world write their advertising
The Copy Book features a work selection and essays by 53 leading professionals in the world, including copywriting superstars such as David Abbott, Lionel Hunt, Steve Hayden, Dan Wieden, Neil French, Mike Lescarbeau, Adrian Holmes, and Barbara Nokes.
The lessons to be learned on these pages will help you create clearer and more persuasive arguments, whether you are writing an inspiring speech, an engaging web banner or a persuasive letter. This is not simply a "must-have" book for people in advertising and marketing, it is also a "should-have" for anyone who needs to involve or influence people, by webpage, on paper, or in person.
8. Victor O. Schwab – How to Write a Good Advertisement
How to Write a Good Advertisement by Victor O. Schwab is one of the all-time great books on copywriting. Mr Schwab is the mastermind behind the title for the international bestselling book How to win friends and influence people by Dale Carnegie.
In his book, Mr Schwab explains the five fundamental elements of a successful ad:
Get attention
Show people an advantage
Prove it
Persuade people to grasp this advantage
Ask for action
Poor copy cannot overcome faults or gaps in dealer distribution; it cannot even cash in on the finest dealer setups. But good copy can, and does, surmount many dealer difficulties, making them secondary, and selling in spite of them.
Victor Schwab
9. Claude Hopkins – Scientific Advertising
In his book, 'Scientific Advertising', Claude Hopkins provides readers with valuable insights into consumer behaviour.
The aim was to explain the rules of advertising and what makes consumers buy so that advertising returns would become a certainty and not a guess. Copywriters are invited to learn how to use Mr Hopkins' techniques to write adverts that sell with certainty.
Known as the father of modern advertising techniques, Mr Hopkins covers many important aspects of advertising including how advertising laws are established, mail order advertising, headlines, psychology, strategy, budgeting, and more advanced subjects like negative advertising and how to test an advertising campaign.
Don't think of people in the mass. That gives you a blurred view.
Claude Hopkins
10. Robert Collier – The Robert Collier Letter Book
The Robert Collier Letter Book remains one of the most useful books on writing sales letters.
It earned Robert Collier the distinction of being one of the greatest marketing minds in history.
Robert Collier sales letters were successful because he wrote to his readers' needs. As an expert in marketing, his sales savvy and writing expertise placed hundreds of millions of dollars in his clients' pockets.
Tell a man something new and you have his attention. Give it a personal twist or show its relation to his business and you have his interest.
Robert Collier
Ode to WorldChangers is the BRAND MINDS poem
Dear Worldchangers,
Last week we launched a creativity challenge on our social media pages: become one of the authors of the BRAND MINDS poem, Ode to WorldChangers.
We wrote the first strophe and invited you to write the next verse in the comments by taking into account the last one written there.
We were thrilled to see many of you getting creative and contribute beautiful verses to the poem:
Here are the co-authors of the BRAND MINDS poem and the verses they contributed:
Florin Leuca (verse 8)
George G. Uță (verse 6)
Andrada Borda (verses 17-20)
Extra Mile Strategies (verses 21-24)
Magda Neagu (verse 12)
Costin Flaviu (verse 5)
Patricia Valentina (verse 7)
Andreea Trancioveanu (verse 11)
Iuliana Sandu (verse 16)
Mihai Marin (verses 25-28)
Alin Pop (verses 29-32)
Ana-Maria Dimitrescu -Amdlifecoaching (verses 13 & 14)
Diana Stirbu (verse 15)
Stefania Bernard (verses 9 & 10)
Thank you for adding your voices to the BRAND MINDS poem!
Here is the final version of the poem:
Ode to WorldChangers
verse 1 Here's to those who shape creation
verse 2 Here's to those who change the world
verse 3 To the bold ones leading nations
verse 4 Raising voices to be heard.
verse 5 Here's to artists crafting beauty
verse 6 Driven dreamers who explore
verse 7 Paths which no one walked before them
verse 8 For the sake of learning more.
verse 9 Here's to the brave who dreamed the atoms
verse 10 Piecing them in the real world
verse 11 With ambitions flying higher than a bird
verse 12 We grow into pathfinders!
verse 13 And to all of those
verse 14 Who raise the consciousness of the world,
verse 15 With a vision yet unfolded
verse 16 Professionals or founders.
verse 17 When creators set the journey
verse 18 And believers follow strong
verse 19 There's a madness that's expanding
verse 20 Through the way ideas bond.
verse 21 Here's to brilliant inventions
verse 22 Here's to notions getting stirred
verse 23 Make creative innovation
verse 24 Fly as freely as a bird.
verse 25 Push your limits and don't forget
verse 26 Someday your vision will conquer the horizon.
verse 27 With every decision made in no regret
verse 28 You'll give wisdom that minds will enlighten.
verse 29 Enlightened minds and touched horizons,
verse 30 Humans walk among the Titans.
verse 31 This is what BRAND MINDS is all about
verse 32 Learning more and standing out.
Join the Conversation
We'd love to hear what you have to say.
Get in touch with us on our LinkedIn Page, Facebook Page, Twitter or TikTok.
10 essential steps to create a winning content marketing strategy
Looking to create a winning content marketing strategy? Follow these 10 essential steps!
1. Define your marketing business goals and objectives
Such as every company has business goals and objectives, so every marketing department has marketing goals and objectives. Setting marketing goals is essential because they support businesses to achieve their goals and objectives.
Marketing goals differ depending on the stage your business is in.
If your business is looking to enter a new market, your marketing goal should be market development.
If your business is looking to expand its market share, your marketing goals should be market penetration.
Discover what strategies did Apple use to achieve market development and market penetration.
Is your business in early-stage development?
Your marketing strategy should focus on building a tribe and raising awareness. That's a different strategy than entering a new market.
Here are 6 marketing goals that you could focus on depending on your set business goals:
Increase brand awareness
Empower your email subscribers
Build brand ambassadors
Boost your sales through referral programs
Identify customer behaviour change
Increase website traffic with guest content
2. Define your target audience – Be clear and specific on your audience's pain points and challenges you are helping them solve
Now that you are aware of the marketing goals and objectives you need to achieve, define your target audience or buyer persona.
You need to have an in-depth knowledge of your customer's profile or buyer persona.
Be very specific with a focus on psychographics more than demographics.
What are your buyers' challenges, pain points, goals and aspirations? Write them down.
How can your brand help your buyers overcome their challenges, solve their pain points or support them achieve their goals?
Once you have the answers to these questions, you can now look into the type of content that helps your audience.
3. Choose your unique angle
There are thousands of pieces of content on luxury, but Louis Vuitton has a unique approach stemming from the brand's longtime history.
Every business needs to find its unique point of view and use it to differentiate from the competition.
From a business standpoint, price shouldn't be a differentiator because it's a losing game. There will always be another business with lower prices than yours.
That is why your business should have a strategic plan in place. The main goal of the strategic plan you create for your business is to define how your business differentiates itself from the competition.
From a content marketing strategy standpoint, choosing your business' unique angle means you will be able to create fresh and relevant content for your audience.
4. Define content guidelines and goals
Your brand's content marketing strategy must include content guidelines and goals.
What type of content are you going to produce to help your audience? If your audience needs help to get better at their jobs, curate lists of digital tools, apps or platforms.
If your audience needs help to achieve their goals and aspirations, write how-to content, tips & tricks.
No matter what type of content you choose, the goal of your content marketing strategy should be to exceed your audience's expectations.
The result of a successful content marketing strategy is to position your brand as a valuable resource for your audience.
5. Decide which content formats you are going to use
What type of content format is your brand best suited to produce?
If your content team includes talented graphic designers, then your brand could focus on beautifully designed images to publish on Facebook, Instagram, Pinterest or LinkedIn.
If your content team includes videographers, your brand could also produce long-form videos to be published on YouTube.
Whichever content format you choose to use, your content needs a powerful copy. A copywriter with a strong set of skills is able to turn a 1000-word blog post into a 10-image carousel on Instagram or an infographic on Pinterest or a 10-min video on YouTube.
Turning one piece of content (usually long-form) into five new pieces of content in different formats for different social media platforms is a great content marketing tactic.
6. Select the channels you are publishing to
There is a wide variety of social media platforms: some new (Clubhouse), some old (Facebook), some that are growing under the radar of most marketers (Mighty Networks).
Should your brand be on every channel?
Experts say brands should communicate on the platforms their audience is spending time on.
Content marketing expert Joe Pulizzi argues that it's time to revisit the well-known content marketing rule of Be where your audience is.
Yes, you need to be where your consumers are, but if your consumers are on 10 platforms, you need to choose which platform you focus on. At least at the beginning, before you start to diversify your efforts.
7. Set KPIs to measure the effectiveness of the content
A successful content marketing strategy is measurable.
The way to measure your marketing results is by setting KPIs.
A KPI in marketing is a measurable value tied to specific objectives.
What should you measure on Facebook? The number of likes, comments and shares are not KPIs, but vanity metrics. A valuable KPI for your content on Facebook could be the CTR to the website.
On Instagram, a useful KPI to measure the effectiveness of your content could be the number of saves your posts have.
If you look at the number of saves as the indicator of success, you need to design your content with this in mind.
What type of content prompts your audience to hit the save button? This should be the mindset underlying your content creation.
Need to learn more about KPIs? Check out 20 essential KPIs you should be tracking to improve your marketing (updated for 2021).
8. Prepare the content calendar
Now that you have the content marketing strategy in place, it's time to start writing!
Map out the content for the next week or month for every channel you are going to publish on.
Write the copy and discuss it with your graphic designing team to find the best suitable format. Are you going to publish a post daily or twice a week?
Mark your calendar with the international days that are relevant to your brand and brainstorm content to celebrate them in advance.
9. Publish and measure KPIs
Once the content has been produced, publish it.
If there are comments from your audience, make sure to comment back without delay.
Thirty days later, check the analytics of every social media platform you have published on and calculate the KPIs.
For the next month, you can use these KPIs as a baseline for your content's effectiveness and improve the content to drive growth.
10. Select the winning types of content and formats
Not every content template or format will become a hit with your audience.
Identify the content type that is not achieving satisfactory results and retire it.
Select the winning content and analyze it to discover what makes it successful.
Create new and improved content that replicates the winning elements.
Join the Conversation
We'd love to hear what you have to say.
Get in touch with us on our LinkedIn Page, Facebook Page, Twitter or TikTok.
Use Six Sigma Framework to reduce costs and improve quality
Are you looking to reduce costs and improve quality? Use the Six Sigma business framework!
What is the Six Sigma framework?
What are the two Six Sigma methodologies? DMAIC and DMADV explained
How do you calculate Sigma?
What are the primary objectives of the Six Sigma framework?
What is the Six Sigma framework?
Six Sigma is a business framework that provides an organization with two methodologies to reduce costs and improve quality thus enhancing the profitability of the business.
These two methodologies are DMAIC and DMADV.
What does the term Six Sigma mean?
The term Six Sigma means six standard deviations from the average.
A Six Sigma level of performance has 3.4 defects per million opportunities (3.4 DPMO).
How do you calculate Six Sigma?
Here's how to calculate the Six Sigma level of quality:
Who created the Six Sigma framework?
If you want to improve something, involve the people who are doing the job.

Bill Smith, the "father of Six Sigma"
The Six Sigma business framework was developed in 1986 by quality assurance engineer Bill Smith during his employment at Motorola.
At the time, Motorola top management was frustrated with the quality of the brand's products.
Bill Smith convinced Bob Galvin, the CEO of Motorola at that time, that improvement of their products was possible and he proposed Six Sigma.
With Six Sigma, Bill's goal was to improve manufacturing quality by identifying and removing the causes of defects and minimizing variability in manufacturing and business processes.
Six Sigma was a huge success by reducing the defects to 1/100th in four years.
Two years after the new strategy was implemented, Motorola won the prestigious Malcolm Baldrige National Quality Award.
Between 1987 and 1997, Motorola reported the following results:
5x growth in sales
20% increase in profits per year
$14 million saved
the stock price compounding to an annual rate of 21.3%
In 2005, Motorola attributed over $17 billion in savings to Six Sigma. Other global companies began implementing the Six Sigma method throughout the 1990s such as Honeywell and General Electric which led to the widespread adoption of this novel and effective business strategy.
What are the two Six Sigma methodologies? DMAIC and DMADV explained
DMAIC methodology is used to improve an existing business process.
DMADV methodology is used to create new processes in order to achieve customer needs.
Both DMAIC and DMADV help the organization to achieve the following essential goals:
Reduce the number of defects to less than 3.4 per million opportunities;
Find quality-related solutions to problems using data and statistical tools;
Meet financial and business objectives.
DMAIC is the acronym for:
D – Define the objective of the project, create the team who will complete the task, select the process the team will be improving, identify and measure the impact the problem has on the customer.
M – Measure the performance of the process by creating and executing a data collection plan that provides reliable and significant data. Identify the variance that needs to be eliminated in order to improve the business process.
A – Analyze the collected data and identify possible causes of the problem. In this phase, the team is able to quantify the financial benefit of solving the problem.
I – Improve. Now that the problem has been identified, it is incumbent upon the team to find a solution to improve and optimize the business process. The team then tests this proposed solution to see if it is effective and financially viable.
C – Control. In this phase, the team documents the new solution that they have created so that it can be passed on to process owners. The project team then implements the solution according to the timeline and key milestones they have developed. Once the solution has been implemented, the project team monitors it for several months and if it meets performance expectations turns it over to the process owner.
DMADV is the acronym for:
D – Define design goals that are consistent with customer demands and the enterprise strategy.
M – Measure and identify CTQs (characteristics that are Critical To Quality), measure product capabilities, production process capability, and measure risks.
A – Analyze to develop and design alternatives
D – Design a business model that helps meet the customer's needs
V – Verify that the new business model helps meet the customer's needs, set up pilot runs, implement the production process and hand it over to the process owners.
What are the primary objectives of the Six Sigma framework?
The primary objectives of the Six Sigma framework are the following:
Identify and reduce errors
Increase the efficiency of business processes
Achieve customer satisfaction
Design new processes
Improve the performance of a product
Sources: sixsigmadaily, shmula
Join the Conversation
We'd love to hear what you have to say.
Get in touch with us on our LinkedIn Page, Facebook Page, Twitter or TikTok.
3 essential strategies to increase website traffic
Looking to increase website traffic? Leverage the power of these 3 essential strategies:
Blogging
Social media
Influencers
1. How to leverage the power of blogging to generate website traffic
To generate website traffic you need content and blogging is the most effective way to create content.
Is blogging easy?
No, it's not, but companies with blogs generate on average 67% more leads per month than companies that don't blog.
It is a well-known fact that Google loves fresh content so companies that publish new content consistently have a lot to gain and I'm not talking about traffic alone.
Successful companies like HubSpot or Salesforce have grown into content publishing powerhouses. They put out several blog articles a day filled with valuable insights, how-to's and other recommendations for marketers and sales professionals.
Companies like these two either have a 5-6 writer in-house team or hire freelance writers. Another solution is to welcome guest posts. No matter which option they went with, they have a well-planned editorial calendar for at least 6 months in advance.
It's totally understandable if your company cannot publish five articles a day, not every company has the human and financial resources of Hubspot and salesforce.
You can start by publishing one article per day. You don't have a content writer on your team yet? No problem!
Find industry experts or influencers in your niche who are looking to increase their personal brand and invite them to contribute guest blogs.
It's a win-win situation: contributors boost their visibility and reputation, and your blog benefits from increased traffic from prospects you could turn into leads then customers.
Now that you have writers generating content, it's time to ensure your published content shows up in Google search results and gets clicked on. In other words: it's SEO time!
SEO recommendations

to get your content to show up in Google search results and get clicked on

1.Keywords with high search volume vs keywords with low search volume

Before jumping into writing content, Nadya Khoja, Chief Growth Officer at Venngage and experienced B2B marketer recommends marketers to determine the search intent of their B2B audience.

Nadya says marketers shouldn't choose keywords based solely on search volume. When it comes to B2B, marketers should choose keywords and terms that are first and foremost relevant to their audience even if they have a lower search volume.

"Popular searches in your industry will attract more B2C consumers, whereas focused keywords that have a higher value, but a lower search volume, usually fall in the B2B realm.", says Nadya.

2. Put honey in your titles

The most important element of your blog article is not the contents, but the headline. If the headline is not attractive enough, no one will read the contents.

Think of the headline as honey: it's sweet and nutritious and bears cannot resist but eat it whenever they find it.

What does a "sweet" headline look like?

A compelling headline:
offers a solution to the reader's problem;
includes an engaging qualifier (i.e.: smart, amazing, easy-to-implement, top, essential, the latest etc);
is clear on what solution does the article provide (i.e.: recommendations, insights, takeaways, tips, trends etc);
provides a number (i.e.: 7 recommendations, 25 takeaways).
To help you get really good at writing enticing headlines, use Headline Studio, a Chrome tool that scores your headlines and teaches you how to optimize them.
3. Serve readers with a 3-course meal type of content
Health experts recommend never eat until you are full, eat until you are no longer hungry.
It's sound advice to prevent overeating related health issues, but that doesn't apply to content.
Your goal as a content writer is to serve the reader with a 3-course meal type of content.
This type of content satisfies the reader's appetite in such a way that they don't need to look anywhere else for delicious content.
It is relevant to the reader and provides valuable information in various forms: how-to, top, round-up, case study, interview or original research.
When the content is valuable, it will get included as a source in other pieces of content and therefore attract further traffic.
2. How to use social media to generate website traffic
For most websites, Google is the first source of paid and organic traffic. Social media comes in second, with Facebook driving the most traffic for business.
Depending on your business, the second social media platform is either LinkedIn or Instagram.
And you should also check out Pinterest because according to the latest reports, each pin can drive up to 2-page visits and 6 pageviews and lasts up to one week compared with Twitter and Facebook whose updates last for 24 minutes and 90 minutes respectively.
Going back to Facebook, what should you write in your post to get your followers to click on the link and visit your page?
Never ever post the link with no copy and expect your audience to click through to your page. It's unprofessional!
What you need to do is to write a compelling copy that piques the interest of your audience.
Use questions to challenge their assumptions and stoke their curiosity then direct them to your link to find the answers.
3. How to generate website traffic with influencer marketing
The latest stats say influencer marketing strategies focused on branding or engagements generate 8x ROI and according to 71% of marketers, the quality of customers and traffic from influencer marketing is better than other sources.
Influencer marketing is powerful but how should you leverage the power of influencers to generate website traffic?
Here are the main dos and don'ts.
Don't limit the influencer to sharing a photo holding your product. It's unprofessional and most of the time it doesn't work! Yes, I'm repeating myself to grab your attention.
Do have your team and the influencer brainstorm ideas for creative and fun campaigns. The influencer should fall in love with your product and find ways to convey this feeling to their followers.
Which strategy are you using to increase website traffic?
Share in the comments!
Join the Conversation
We'd love to hear what you have to say.
Get in touch with us on our LinkedIn Page, Facebook Page, Twitter or TikTok.